Amex Business Platinum Offering Up to 190K Bonus
American Express usually offers dynamic and personalized welcome bonuses for several credit cards, including The Business Platinum Card® from American Express. That means that offers might vary every time you click on a link.
Until now the Amex Business Platinum Card was offering a welcome bonus of up to 170,000 Membership Rewards points. Now some people are seeing offers for 190,000 Membership Rewards points with the same spending requirement of $15,000. Check out the details of the offer and some tips on how to look for this bonus.
Welcome Bonus
Earn 190,000 Membership Rewards® points after you spend $15,000 or more on eligible purchases on your Card within your first 3 months of Card Membership starting from the date your account is approved.
Annual Fee: $695
How to Find This Offer?
Open this link in a chrome desktop incognito. This is a link from Google that was working for many to pull up the 170K Business Platinum previously.
Google "amex platinum business" and click the sponsored link.
You can also try another way that was shared in the comments for the Business Gold Card. Once you get an improved offer (more than 120K), just leave the page open and let it expire. Once it expires, refresh the page and hopefully see the 190K bonus.
If these "tricks" don't work, then you just need to keep trying different links, referrals, browsers, locations, wifis etc.
Eligibility
This offer has the lifetime language:
You may not be eligible to receive a welcome offer if you have or have had this Card or previous versions of this Card. You also may not be eligible to receive a welcome offer based on various factors, such as your history with credit card balance transfers, your history as an American Express Card Member, the number of credit cards that you have opened and closed and other factors. If you are not eligible for a welcome offer, we will notify you prior to processing your application so you have the option to withdraw your application.
However, you can still go ahead and apply even if you think you are not eligible. As noted in the terms, Amex will notify you prior to processing your application so you have the option to withdraw it. If you do not get the pop-up, then you will receive the welcome bonus.
What to Know About Applying for American Express Cards
Here are a few things worth noting regarding American Express credit card applications:
Amex limits you to a maximum of 5 credit cards and 10 charge cards.
There's normally no hard pull when you apply for a new Amex card and are not approved.
If you already have an Amex card, then applying for more Amex cards will normally not result in a hard pull.
You are not eligible to receive a welcome bonus on a card you've held in the past. This is known as the lifetime rule, but that usually applies to cards you've had in the last 5-7 year. Here's how to check what cards you've had in that timeframe.
American Express will let you know during the application process if you are not eligible for the welcome bonus.
90 Day Rule: You can get up to two new cards every 90. This rule excludes to Pay Over Time cards.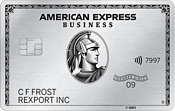 Card Details
5X Membership Rewards points for each dollar of eligible purchases made when you book on the American Express Travel website
Earn 1.5X Points per dollar on

eligible purchases of $5,000 of more
U.S. Electronics goods, retailers, software, and cloud service providers
U.S. Construction materials and hardware supplies
U.S. Shipping providers

Use Membership Rewards Pay with Points for all or part of an eligible fare and get 35% of those points back, up to 1,000,000 bonus points per calendar year.
Get up to $400 in statement credits annually for U.S. purchases with Dell Technologies. Get up to $200 in statement credits between January and June, and up to $200 in statement credits between July and December. Enrollment required.
Up to $120 annual statement credits for purchases made directly from any US wireless telephone provider, up to $10 per month. Enrollment required.
Indeed - Get up to $360 credit ($90 per quarter). Enrollment required.
Adobe - $150 annual statement credit. Enrollment required.
$200 in statement credits per calendar year for airline incidental fees. Enrollment required.
Receive a statement credit every 4 years for Global Entry ($100) or every 4.5 years for TSA PreCheck (up to $85).
Cover the cost of a CLEAR Plus membership with up to $189 in statement credits per year after you pay with your Business Platinum Card. Enrollment required.
Complimentary membership in premium car rental programs, including Hertz President's Circle status and other upgrades and discounts. Enrollment required.
Marriott Bonvoy Gold Elite status
Hilton Honors Gold status
Platinum Card Concierge available 24/7 to help with anything from special dinner reservations to finding the perfect gift.
No Foreign Transaction Fees
Primary Cardholder Annual Fee: $695 (Rates & Fees)
Additional Employee Cards Fees:

$350 annual fee for each Employee Business Platinum Card
No Annual Fee for Employee Business Expense Card
Guru's Wrap-up
This is a great welcome offer for a credit card, even with the $695 annual fee. 190,000 are worth about $2,800, so you are getting over $2,000 in value even after subtracting the annual fee. But the card also has valuable benefits that it maximized give you considerable value.
If you are not able to find this Amex Business Platinum 190K bonus, then you can try calling in for this 200K offer.