🔃 Update: This offer is now showing in American Express accounts as well, so it's worth a quick check. It should show either in Amex Offers or on the right sidebar. You can also try these methods that seem to be working for some:
Open this link in a chrome desktop incognito. This is a link from Google that was working for many to pull up the 170K Business Platinum offer a few months back. From that landing page, click on the three lines menu in the top right of the page, click on "most popular cards" then Business Gold. It might take a few attempts. (HT: reddit)
Search for "amex platinum business" first and click the sponsored link (you might see a 170K offer for the Business Platinum Card here). Then in the same tab look up "amex gold business" and click that sponsored link. Seemed to almost always be an elevated offer at least. This was on chrome incognito, no vpn, home wifi, mac laptop. (HT: reddit)
You can also try another way that was shared in the comments below. Once you get an improved offer (more than 70K), just leave the page open and let it expire. Once it expires, refresh the page and you should see the 150K bonus.
Let me know in the comments if either of these tricks works for you, or if got this elusive 150K bonus on the Amex Business Gold Card in a different way.
Amex Business Gold: Up to 150K Welcome Bonus
This week, the American Express® Business Gold Card was revamped with added benefits and a higher annual fee that will kick in next year. As for the welcome bonus, I was told that American Express didn't find it necessary to improve it as the card was already getting extra value. I was also told that the welcome bonus on this card is "dynamic and personalized". That is something that we already knew, as you can often get offers as high as 130,000 Membership Rewards points.
But actually American Express seems to have made an improvement to the welcome offer. Instead of 130,000, you can see offers as high as 150,000. To see these higher offers, you will need to try applying from different locations, use a clean browser window, and even try different browsers.
Offer
Earn 150,000 Membership Rewards® points after you spend $10,000 or more on eligible purchases on your Card within your first 3 months of Card Membership starting from the date your account is approved.
Annual Fee: $295
As mentioned above, the offer will vary. You can try the links here, or even better just google the name of the card and click on the first direct link. If you get it to show through a referral link, that would be great, as you can also earn the referral bonus.
Welcome offer not available to applicants who have or have had this Card. We may also consider the number of American Express Cards you have opened and closed as well as other factors in making a decision on your welcome offer eligibility.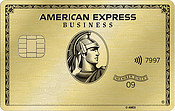 Card Details
Earn 4X Membership Rewards points on the 2 categories where your business spends the most (up to $150,000 per calendar year):

Purchases at U.S. media providers for advertising in select media (online, TV, radio)
U.S. purchases at restaurants, including takeout and delivery
U.S. purchases at gas stations
Monthly wireless telephone service charges made directly from a provider in the U.S.
Transit purchases including trains, taxicabs, rideshare services, ferries, tolls, parking, buses, and subways.
U.S. purchases made from electronic goods retailers and software & cloud system providers

Earn 3X Membership Rewards points on flights and prepaid hotels booked on AmexTravel.com.
Earn 1X Membership Rewards point on all other purchases.
Book your flight with points at American Express Travel and get 25% back (ends 1/31/24)
Earn up to $20 in statement credits each month for eligible purchases at FedEx, Grubhub, and Office Supply Stores. Enrollment required.
Walmart+ Membership Credit for a monthly Walmart + membership (subject to auto-renewal).
Book a two-night minimum The Hotel Collection stay through American Express Travel and get a $100 experience credit.
Pay Over Time Option
No preset spending limit
No Foreign Transaction Fees
Cell Phone Protection for up to $800 per claim and max 2 claims per 12 months.
Trip Delay Insurance, Baggage Insurance Plan and Car Rental Loss and Damage Insurance
Extended Warranty and Purchase Protection for 90 days (up to $1,000 per occurrence, up to $50,000 per Card Member account per calendar year).
Annual Fee: $295 (going up to $375 on 2/1/23) (Rates & Fees)
Guru's Wrap-up
This is a great welcome bonus for the Amex Business Gold Card. You need to spend $10,000 in the first 3 months to earn the 150,000 Membership Rewards points. That's a lot of spending, so make sure you are able to complete it before applying. Keep in mind that this offer has the lifetime language, which means that you are only eligible if you have never had this product in the past (which really means the last 5-7 years).
Let me know if you are able to see this 150K bonus. If you already had this card in the past, you can check these targeted NLL offers.
HT: reddit