Delta Offers Medallion Status Accelerators, Extends Tickets and Credits, Plus Opens Up Middle Seats
Delta Air Lines has made several announcement today. The airline is offering Medallion Status Accelerators, it has confirmed the return of snack and beverage service, tickets and credits ill be extended, and middle seats will soon be bookable. Currently American Express and Delta also have increased welcome bonuses for Delta credit cards. Some cards show even better bonuses when booking a flight. So now let's take a look at the new announcements made today by Delta Air Lines.
Medallion Status Accelerators
Delta has announced 2022 Medallion Status Accelerators, giving passengers more ways than ever to earn 2022 Medallion Status and helping them achieve the next Tier faster. Beginning with flights on April 1, 2021 through December 31, 2021, you can earn:
At least 50% more Medallion Qualification Miles (MQMs), Medallion Qualification Segments (MQSs) and Medallion Qualification Dollars (MQDs) on Delta flights. This includes Pay with Miles tickets and flights booked as a part of a Delta Vacations® package, so experiencing the Medallion Difference is that much closer to reach.
And special for this year, that 50% more extends to Award Travel, inclusive of Miles + Cash tickets – making those Award trips even more rewarding.
Plus, an additional 25% – or 75% total – on all premium cabins (Delta One®, Delta Premium Select, First Class and Delta Comfort+®) and upgrades purchased after initial ticket purchase (cash or miles).
Note: For April 1-May 15, 2021 travel, bonus MQMs, MQSs and MQDs will be retroactively credited to your account by May 31, 2021. If you don't see them immediately after your flight during this time period, know they'll be credited soon. Bonuses are only applicable to earning Medallion Status, redeemable miles on Delta flights remain the same.
In addition:
Bonuses will also apply to challenges such as Reclaim My Status and Status Match, so while challenge thresholds won't change, you'll have an accelerated path to completion.
And, bonus MQMs will also apply to your Million MilerTM Status Qualification.
Boosts will be automatically applied to all eligible Delta flights flown between April 1-December 31, 2021, with no action needed from you. Here are some examples of how it works: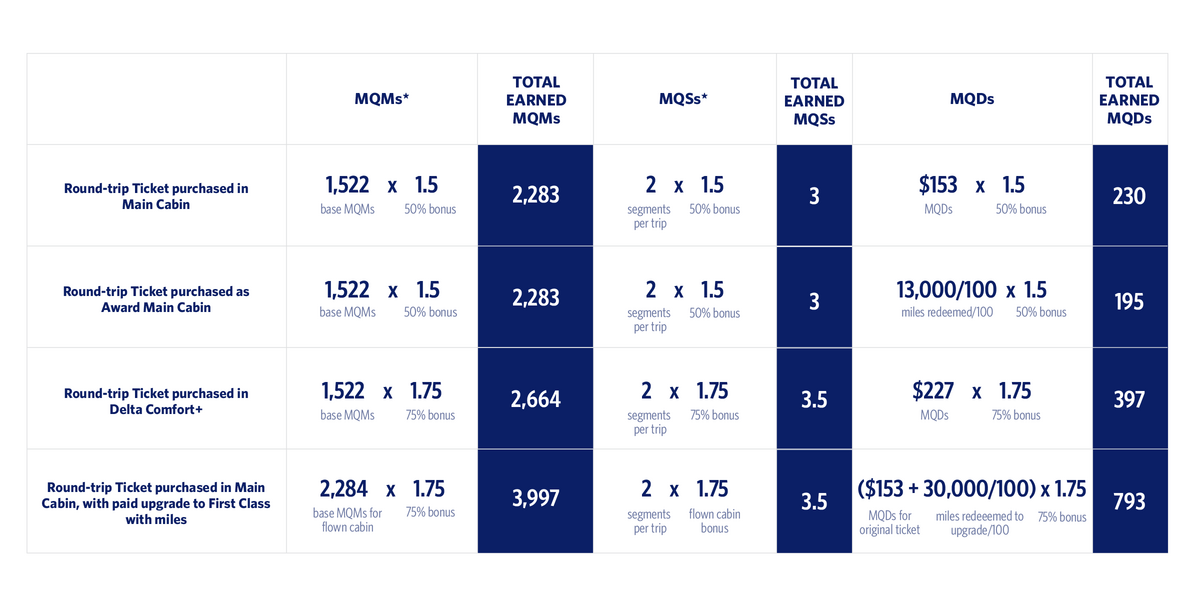 Full details of Delta's 2022 Medallion Status Accelerators are
here
.
Extended Tickets and Credits
Delta is giving customers more time to plan and rebook a trip than any other U.S. airline with a travel credit extension that allows for unmatched flexibility. Tickets normally expire one year after purchase, but effective immediately, Delta is extending the validity of:
All tickets expiring in 2021 to expire Dec. 31, 2022
All tickets purchased in 2021 to expire Dec. 31, 2022
Additionally, to provide more protection for more tickets, Delta is extending its existing change fee waiver for all Basic Economy tickets purchased through April 30, 2021 – as well as all tickets that originate outside of North America.
"Delta has consistently delivered new ways of simplifying travel and giving customers more control over managing their plans, and we're keeping that promise," said Sandeep Dube, S.V.P. – Pricing and Revenue Management.
Delta last spring extended through the end of 2022 many tickets impacted by the onset of the pandemic (those purchased prior to April 17, 2020, that were scheduled to travel on or after March 1, 2020).
Snack and Beverage Service
As I wrote a few days ago, Delta has made an official announcement that it is bringing back customers' favorite sips and treats – along with some new additions. Starting April 14, Delta's domestic and select short-haul international flights will feature Coca-Cola beverages, wellness-focused snacks and Tip Top Proper Cocktails. In early June, customers flying in Delta One or First Class on select domestic coast-to-coast flights will see hot food options return, and First Class customers on other key U.S. routes will enjoy fresh boxed meals beginning in early July.
Middle Seats Unblocked
Delta is unblocking the middle seat and allowing customers to book any seat on our planes effective May 1.
But, "don't confuse these actions with a return to normal," says Delta CEO Ed Bastian. "We're still operating in a pandemic, and many of the changes we've made over the past year, such as strengthening our cleanliness protocols and eliminating change fees, will be permanent. Importantly, masks remain critical to our ability to safely welcome more people onboard our planes, and we remain committed to enforcing these requirements."
Delta is also re-opening almost all Delta Sky Clubs by July (including brand new clubs in Fort Lauderdale and Tokyo-Haneda).