Can You Transfer Chase Ink Business Premier Points?
The Chase Ink Business Premier is the latest addition to the family of Ink Business credit cards. It launched last year in-branch only at first and then online for everyone.
This is an interesting card as it earns cash back or Ultimate Rewards points that have very limited use. Officially you can't combine them with the points earned from other Ultimate Rewards cards such as Chase Sapphire Reserve or Chase Ink Preferred. That means that you can't get outsized value with travel partners.
Chase still says that the Ultimate Rewards points you earn with your Chase Ink Business Premier are only redeemable for cash back, or travel and gift cards through the Chase Ultimate Rewards portal. Cardmembers are not able to transfer points from Ink Business Premier to another Chase card, but they can transfer points from another Chase card to Ink Business Premier. That means that this card is basically a cash back card.
Recent Change
But something seems to have changed in recent days.
There are a few datapoints on reddit and in our Facebook Group, that it is indeed possible to transfer points to other cards. This can be done through the usual process of combining points, which shows up for the Chase Ink Business Premier credit card.
It's not clear if this is intentional or not, but the option of transferring points to other cards is not yet available for everyone. If you have this card already, then definitely check if this option shows up for you. And if you were thinking about getting this card, this should push you over the line.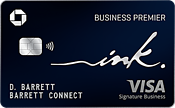 Welcome Bonus
The Chase Ink Business Premier card currently has a welcome bonus of $1,000 after spending $10,000 in the first three months. That bonus becomes much more valuable if you are able to use the cash back as Ultimate Rewards. That's easily $1,600 worth and possibly even more.
But it's also possible to get an even higher welcome bonus. There's an offer for $1,500 with the same requirements, but only available in-branch through a business relationship manager, or online through "Just for you" offers. That would be a value of $,2400 or more when used as Ultimate Rewards.
How to Combine Ultimate Rewards
In order to transfer your points to another card, you need to follow these steps:
Go to Chase Ultimate Rewards Portal and log in
Click on the "Rewards details" drop-down menu on top
Select Combine Points
Choose the card you want to transfer points from and the card you want to transfer points to, then "Continue."
Enter the number of points you want to transfer and confirm the amount.
Review the transfer request, then click "Confirm & Submit."
You can move your points, but only to another Chase card with Ultimate Rewards belonging to you or one member of your household or owner of the company, as applicable.
Chase has the following language on this page:
If we suspect or believe you've engaged in misuse, or fraudulent activity related to your credit card account or Ultimate Rewards (for example, by: buying or selling points, moving or transferring points to an ineligible third party or account, repeatedly opening or otherwise maintaining credit card accounts for the purpose of generating rewards or manufacturing spend), then we may temporarily prohibit you from earning points or using points you've already earned or close your credit card account.
Why Transfer Points to Another Card?
There are a few reasons why you might want to transfer Chase Ultimate Rewards from one account to another:
Cash back earned with a card such as Chase Freedom Flex or Chase Ink Business Premier are more valuable when transferred to a premium card that earns Ultimate Rewards and has the ability to transfer to travel partners.
If you transfer to a Chase Sapphire Reserve card, you get 25% more value when redeeming points for travel or for select purchases.
If you plan on booking travel through the portal, or even transferring points to a travel partner, it's a good idea to consolidate points in one account.
You might want to transfer points to another card if you plan to close your account. If you are considering closing your card, make sure you transfer any points prior to account closure so you don't lose them.