Tello is an inexpensive prepaid wireless phone service. It's a relatively new entry in the business of low-cost prepaid carriers. They have very flexible monthly service plans on Sprint's network. Tello's plans are all prepaid, so there are no contracts, no early termination fees and no activation fees for its service.

Plans
Some examples are the Prepaid Economy Plan (1GB 4G LTE Data,Unlimited Mins/Text) for $10 per Month or the Prepaid Value Plan (2GB 4G LTE Data, Unlimited Mins/Text) for $14 per Month. But you can really build your plan based on your needs. You can choose from no data to 12GB, or no voice minutes to unlimited. Minutes can be used for calls to US, Canada, Mexico & China. Unlimited text messages are included for all plans. Here's a look at their pricing.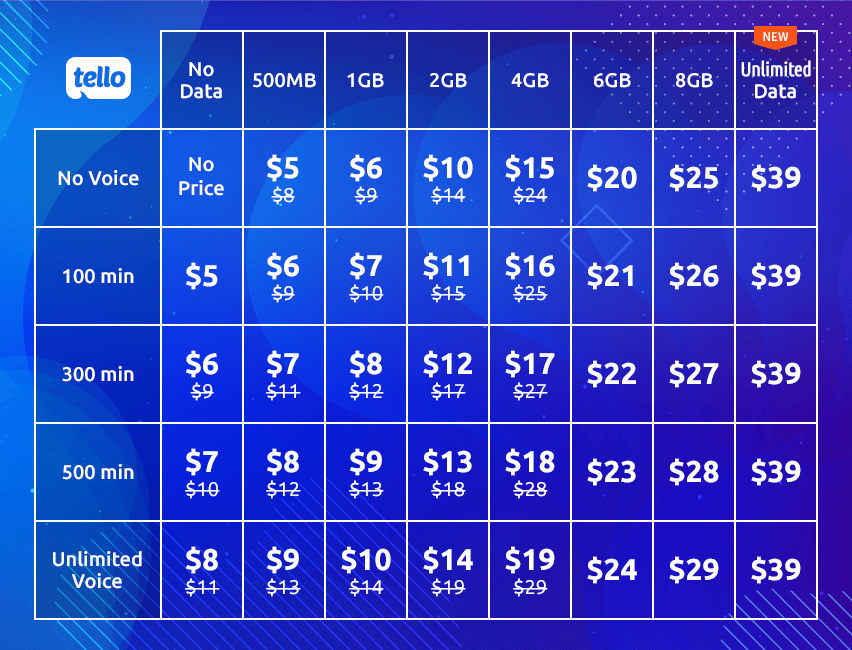 Plans renew automatically every 30 days. You can upgrade or downgrade your plan anytime with no extra fees. The change is instant, and your remaining balance will roll over for the next 30 days.
Compatible Devices
Tello lets you bring your own device if you sign up. You can check here with your your phone's device ID (MEID) to see if it qualifies. Compatible Sprint or supported unlocked smartphone are required.
They also sell phones starting as little as $25, if you're looking for a cheap device.
Guru's Wrap-up
Tello can save you a lot of money if you don't need a whole lot of minutes. If you use your phone primarily in areas that are served well by Sprint's network and spend most of your time connected to Wi-Fi, you can really save a bundle. One drawback is that they don't support multiple lines in the same account. Also if you already have an account you should be upgraded to the new plans soon. Or it could have happened already.
Let me know if you use or have used Tello and how you like their service.